Why choose Britax Romer Smile III?
- easily folds to a compact size
- outstanding dual suspension
- ergonomic lying position
In a set
The Essential Bundle provides everything you need to safely transport your little one in the SMILE III pushchair – from birth to 4 years (22 kg). The two-piece travel system includes the SMILE III carrycot which offers your baby space to grow and comes with a soft, cozy mattress for an ergonomic lying position during the first months of your baby's life. Also included is the SMILE III pushchair chassis and seat unit with outstanding dual suspension to ensure a smooth and comfortable ride on any terrain.
SMILE III pushchair
The SMILE III is bringing you and your baby the ultimate travel solution for comfort and safety. You can swiftly change from stroller to pushchair, whilst the super-slim frame lends maximum manoeuvrability – perfect for urban living. Its superior suspension and air-filled tires ensure the most comfortable ride, for both parent and child.
SMILE III carrycot
For the first months of your baby's life, a carrycot is the best and healthiest choice when you take long strolls, because it offers your little one a complete lie-flat position. The SMILE III Carrycot with its soft touch and grip fits perfectly on your SMILE III pushchair. Providing plenty of room for your baby to grow until they are ready to move to the seat unit it provides a padded environment, and thanks to the generous hood and apron your baby will be safe and protected at all times.
Flip flop friendly safety brake
The brake fixes both rear wheels for safe and stable stopping security and has an indicator to show you if the brake is active or not. Plus, the brake can be released from the top, so your shoes won't get dirty or scuffed.
Extra-large storage basket
Whether you're going on a long day trip or just running errands, our easily accessible storage basket can hold 7 kg of everything you need from diapers, extra clothes, toys and snacks to last minute groceries.
Central & front wheel suspension
The centrally positioned chassis suspension and front wheel suspension provide a smooth ride on any terrain. So whether it's cobbled streets or country lanes, nothing will disturb your little one from sleeping soundly. Also, the front wheels have a swivel mode that enables you to manoeuvre in narrow spaces, however can be locked for use on uneven ground.
Air-filled wheels
Thanks to the large air-filled wheels, the pushchair is easy to manoeuvre on any terrain, whether it's cobbled stones or country lanes, while providing a smooth ride for your baby.
Glow in the dark 3M reflector stripes
To keep the toy safe in low light conditions, the pushchair is equipped with 3M reflectors all around-on the front cover, around the basket and on the wheels.
Compact freestanding fold
For space-saving transportation in any car, the pushchair easily folds to a compact size that stays that way until you want to use it again thanks to the automatic fold lock. Plus, it's also freestanding when folded and with the integrated handle protector it stays clear of the dirty ground.
Extra-long backrest
Thanks to the extra-long 48 cm backrest, your child will have plenty of space to grow and enjoy trips in the pushchair.
Lie-flat backrest and footrest
To always provide a comfortable position for your child, the backrest can be adjusted from upright to relaxed reclined to a lie-flat position with one hand, while offering protection from the sides at all times.
Reversible seat unit
No matter if your child wants to stay connected to you or explore the world, with the quick and easy reversible seat unit you are always able to keep them happy on any journey.
Extra-large hood with ventilation window
Thanks to the extra-large hood with UPF 50+ your child is perfectly protected on sunny days. In addition, the large ventilation window ensures improved air circulation on hot days.
Adjustable comfort handle
The handle not only features a soft touch and grip, but can also easily be adjusted to suit anyone's height and comfort. Plus, the leather-look handle and bumper bar give your pushchair a fashionable and premium look.
Specifications:
Pushchair folded (with seat unit and wheels)
(H x W x D)
90 x 40 x 57 cm
Chassis folded (with wheels) (H x W x D)
84 x 27 x 57 cm
Handle Height
80 – 113 cm
Backrest length
48 cm
Footrest length
23 cm
Seating area (W x D)
30 x 23 cm
Weight
13 kg
Weight complete pushchair with hood
13 kg
Weight chassis and wheels
9 kg
Maximum child weight
22 kg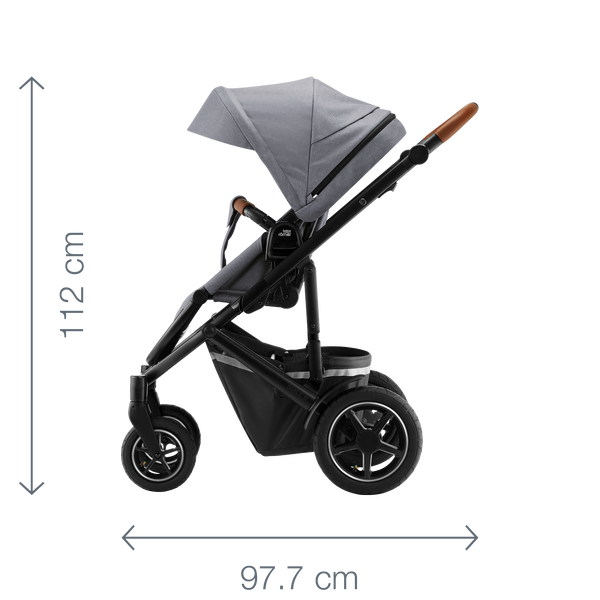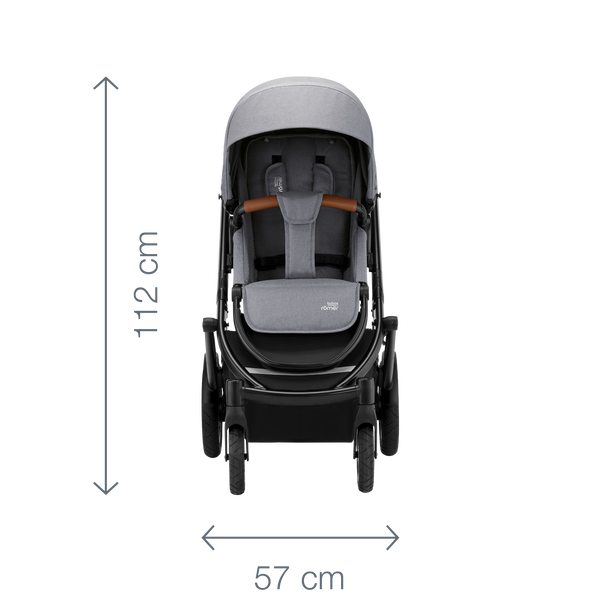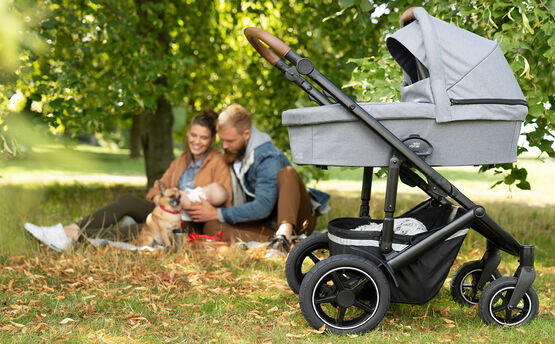 Air FilledMore
Koło pompowane posiada wewnątrz dętkę wypełnioną powietrzem. Koło tego rodzaju gwarantuje najlepszy komfort jazdy w ciężkim terenie, jest jednak narażone na przebicie i wymaga od użytkownika obsługi, takiej jak pompowanie.
The composition of the set
possibility of installing a car seat
folding the seat with the chassis
2 years manufacturer's warranty "Door-To-Door"
2 years manufacturer's warranty "Door-To-Door"