A versatile pram for all terrains, suitable from the first days of a newborn to the end of strolling. Small turning radius and smooth handling thanks to its sleek, lightweight design, cushioning and pumped wheels. Sustainably manufactured.


Indie - cechy produktu:
• Wózek na każdy teren, amortyzowane, pompowane koła 12" (3)
• Odpowiedni dla niemowlaków bez stosowania dodatkowych akcesoriów
• Lekka, kompaktowa rama
• Proste składanie i przechowywanie na stojąco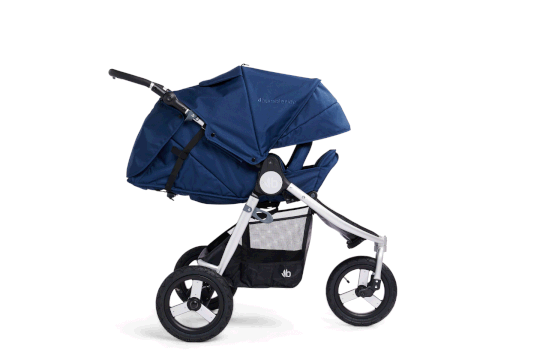 Eko fakty:
• Odporna powłoka hydrofobowa nie zawiera PFAS
• Tkaniny ekologiczne pochodzące w 100% z recyklingu
• Dzięki innowacyjnej technologii farbowania tkanin, użyty barwnik oszczędza wodę (kolor czarny)
• 25% materiałów z recyklingu pochodzi z tworzyw sztucznych wyłowionych z oceanów
• Brak plastikowych opakowań
Specyfikacja techniczna:
• Rekomendowany od urodzenia do 24.9 kg
• Zmodyfikowany system hamulca
• Nowy ochraniacz na barierkę
• Obszerny daszek z przedłużeniem dla dodatkowej osłony, ochrona UPF 45+ oraz wentylacja
• Eko-tkaniny, z certyfikatem OEKO-TEX Standard 100, Klasa I wolne od szkodliwych chemikaliów, nie zawierają związków zmniejszających palność, ołowiu, ftalanów, BPA, pianki poliuretanowej, PVC
• Wodoodporny impregnat, nie zawiera szkodliwych PFC, PFOA, PFOS i PFAS
• Regulowana rączka z uchwytem z TPR (nie zawiera PVC), z paskiem bezpieczeństwa w zestawie
• Proste, jednoetapowe składanie dzięki funkcjonalnej dźwigni i automatycznej blokadzie
• Oparcie rozkładane jedną ręką
• Zintegrowane kieszenie na wodę i przekąski
• Duży kosz zakupowy ze schowkiem na pompkę do kół (pompka w zestawie)
• Amortyzowane zawieszenie, pompowane koła 12"
• 5-punktowe pasy bezpieczeństwa z ochraniaczami na ramiona
• Tapicerka oraz daszek łatwe w demontażu, mogą być prane w pralce
• Regulowany podnóżek, duża przestrzeń na nóżki dla większych dzieci
• Przednie koło obracające się o 360 stopni z możliwością blokady m.in w pozycji do szybkiego marszu
• Lekka, aluminiowa rama
• Dostępny w wersjach kolorystycznych: Black, Maritime, Sand, Sea Glass

Wymiary:
• Waga wózka: 10.8 kg
• Udźwig: 24.9 kg
• Rozłożony dł. 120cm x szer. 62cm x w. 67-116 cm
• Złożony: dł. 81cm x szer. 62.2cm x w. 29cm H
• Złożony bez tylnych kół: dł. 81 cm x szer. 48cm x w. 27cm
• Zakres wysokości rączki: w. 67cm-116 cm
• Daszek (od siedziska do szczytu daszka): dł. 58 cm
• Oparcie (od siedziska do szczytu oparcia): dł. 48 cm x szer. 33 cm
• Szerokość na wysokości ramion: szer. 38 cm
• Siedzisko: szer. 37 cm x dł. 23 cm
• Przestrzeń na nogi: dł. 36 cm x szer. 36 cm
• Wysokość po złożeniu: w. 76 cm
• Siedzisko rozłożone na płasko, tryb niemowlęcy dł. 66 cm x szer. 33 cm
Co jest w pudełku:
• 3 lata gwarancji na ramę
• Zdejmowana barierka
• Pompka
• Pasek bezpieczeństwa na nadgarstek
Dodatkowe akcesoria (do kupienia osobno):
• Adaptery do fotelika samochodowego (sprawdź listę kompatybilnych modeli fotelików)
• Wkładka niemowlęca do wózka z bawełny organicznej (IN-01B)
• Wkładka do wózka z bawełny organicznej (SL-85OCB)
• Pokrowiec na materac do gondoli z bawełny organicznej (MC-01B)
• Organizer do wózka, Parent Pack (PP-99)
• Folia przeciwdeszczowa do wózka Indie & Speed (RC-14)
• Bumbleride Torba podróżna pokrowiec do wózka Era, Indie & Speed (IB-20B)
• Gondola (BAS-63)
• Dostawka do wózka Mini Board (MB-76)
• Śpiworek do wózka Matte Black (MCW-50)
• Wkładka do wózka (SL-93)
Kompatybilne foteliki samochodowe:
• Clek Liing (MNCL-25B)
• Nuna Pipa, Pipa Lite, Pipa Lite LX, Pipa Lite RX, Pipa RX, Pipa Lite R (adapter MNCL-25B)
• Maxi Cosi Coral XP, Maxi Cosi Mico Max Plus, Maxi Cosi Mico Max 30, Maxi Cosi Mico 30, Maxi Cosi Mico AP (adapter MNCL-25B)
• Cybex Aton, Aton 2 and Aton Q (adapter MNCL-25B)
• Graco SnugRide 35 Lite, SnugRide 35 Lite LX, Graco SnugRide SnugLock Extend2Fit 35,Graco Click Connect Snugride 30or 35 (adapter GCH-15)
• Chicco Fit2, Chicco Keyfit 35 and Chicco Keyfit 30 (adapter GCH-15)
• Peg Perego Primo Viaggio 4-35, Viaggio 4-35 Nido (adapter PEG-15)
2 years manufacturer's warranty "Door-To-Door"
2 years manufacturer's warranty "Door-To-Door"