Save by buying more
Joolz Day 3 is all about better functionality and great looks. The pushchair is intuitive to use. Parents will appreciate the ease of use and its reliability. Children will appreciate the comfort and convenience.
What makes the Joolz Day 3 special ?
even more comfortable to push thanks to improved suspension and shock absorption and new front wheels

cleverly designed carrycot with ventilation system and mattress with head support

longer and easier to adjust harness straps

improved quick and easy folding to a compact size

handles for hanging the bag on the frame of the pushchair so everything is close at hand

lifetime guarantee, all products purchased from us come with a door to door warranty*

The Joolz Day3 is a deep-walker set. A spacious carrycot and comfortable seat, all for your little one.
The carrycot - useful features:
large and spacious carrycot (up to 82cm long!) with ventilated base

mesh insert in the canopy for easy ventilation

mesh insert in the front of the carrycot (can be covered) allows your baby to lie on his tummy and admire the world around him

Allergenic mattress with additional support for your child's head

the carry cot can be folded flat for easy storage

large, low-noise canopy with additional extension for even greater sun protection

special loops for hanging up favourite toys

high position on the frame of the pushchair, the carrycot is easy to take out and put in for your child

convenient carry handle, opens on both sides, can also be tilted up on one side and the child can be put in and buckled in

the carry cot can stand on its own and has legs

easy to mount on the pushchair frame
Seat - useful features:
the seat can be mounted in both directions: forward facing and parent facing

three ergonomic seat positions

reclining and semi-reclining position - when your child is around 6 months old

sitting position - when your child can sit up unaided

Ergonomic seat provides good support for your child's back

One-hand adjustable footrest

adjustable straps with magnetic buckle

the seat is attached to the frame of the pushchair at such a height that when the pushchair is pulled up to the table the child sits at the table

comfortable headband, can be opened from both sides

large, low-noise fold-out canopy with additional extension for even greater sun protection and mesh insert
Joolz Day 3 pushchair frame
easy to manoeuvre - even with one hand

4 cushioned wheels

4 super-lightweight and puncture-resistant tyres

swivel front wheels can be locked for straight-ahead use

foot brake

the frame is compact - 59 cm wide - to fit into lifts and narrow passageways

large, easily accessible basket underneath the pushchair

height-adjustable handle

very easy to fold (with and without seat), once folded the frame stands on its own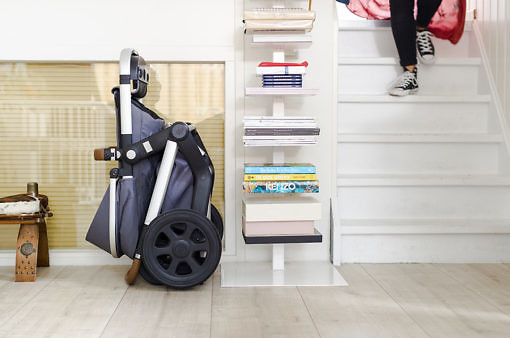 TECHNICAL DATA
Dimensions:
unfolded: 84 x 59 x 100 - 111 cm

folded without seat: 68 x 59 x 32 cm

folded without seat and wheels: 69 x 55 x 23 cm

folded with seat and wheels: 95 x 58 x 42 cm

outer carrycot: 86 x 39 x 23 cm

inner carrycot: 82 x 34 x 20 cm

mattress for carrycot: 76 x 34 x 3 cm

front wheels: 7"

rear wheels: 12"
Weight:
stroller with seat: 13.2 kg

frame with basket: 9.3 kg

frame without wheels: 6.2 kg

seat: 3.9 kg

carrycot: 4.9 kg

basket capacity: 22 l

basket load under pram: 5 kg max.

load of the Joolz Day 3 pushchair: 20 kg max. (child + basket combined)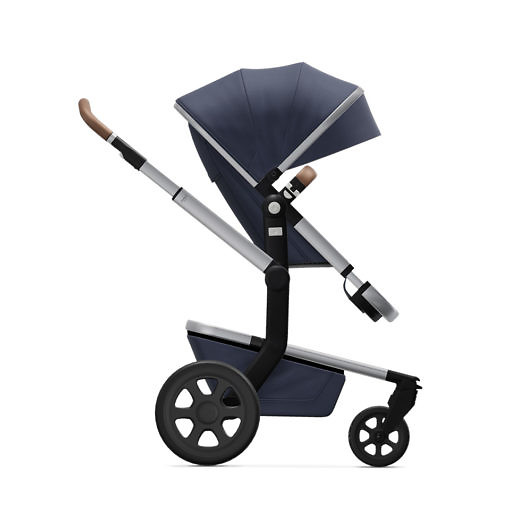 RubberMore
Koła żelowe to koła bezobsługowe, które wewnątrz posiadają miękkie wypełnienie lub komorę powietrzną, a zewnątrz warstwę gumy. Dzięki temu ten rodzaj koła nie ściera się, a przy tym oferuje podobny komfort jazdy do koła pompowanego.
The composition of the set
designed for a small trunk
possibility of installing a car seat
Lifetime manufacturer's warranty
Lifetime manufacturer's warranty